5 Job Search Tips for Recent Graduates
April 27, 2022 | by Télé-Ressources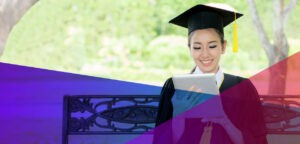 Congrats, you've graduated! Feeling nervous about this next phase of your life? That's perfectly normal. Navigating the job world can be overwhelming, especially if it's your first time outside of school. Below, we've outlined a few important tips to consider when applying for jobs as a recent graduate. Keep this advice in mind and remember to be patient. Applying for jobs can be a long and competitive process, but don't give up!
Refine your online presence
In today's day and age, social media is far more than a simple platform to connect with friends. Think of them as powerful sales tools: You can use social media to apply for jobs, and likewise, recruiters always use social media to research their candidates. Make sure your online profiles are free of any inappropriate photos, any divisive or controversial posts, and anything you wouldn't want a future employer to read. In terms of LinkedIn, make sure you have an up-to-date profile which includes your experience, accomplishments and successes.
Research your desired industry
Become familiar with some of the main companies in your field, as well as the different types of jobs that are offered. Search for blogs and websites that offer industry news, and subscribe to their newsletters to stay up to date on the latest trends. Scour job listings in your industry and read through the requirements and job characteristics. All of this information will come in handy when writing your CV and cover letters, and eventually for an interview.
Be open and flexible with your career plans
Working towards a dream job is a great goal, but be sure that you don't limit yourself early in your career. Your main focus out of school should be to gain experience. Experience will help you understand your interests and your skills, which will help you adjust your long-term career goals. Furthermore, most of the time, you have to start at the bottom and work your way up. Be open to different types of job opportunities within your industry and look at your career as a journey. Every experience will lead to more opportunities for your career advancement.
Start building your portfolio
Hiring managers will want to see examples of your work and your accomplishments. There are a variety of ways to start building your work portfolio, depending on your industry. Some examples can be starting a blog dedicated to the type of work you are interested in or taking an online skills course. Just make sure they are relevant to the type of work you want to pursue.
Keep building your network
Never stop networking! To start, keep in touch with the professors and classmates you admired, connected with, and were inspired by. Add them on LinkedIn and continue to use that platform to connect with people in your industry, specifically those at companies where you want to work. Attend networking events in your city, whether online or in-person, and set yourself small goals to motivate you to meet new people.
Quick tip for networking events: If you're nervous, go with a friend. That can lift some of the pressure off of you and make it more fun. Always remember that meaningful connections will be the most beneficial in the long run.