How to Keep Your Team Motivated During the Pandemic
January 13, 2022 | by Télé-Ressources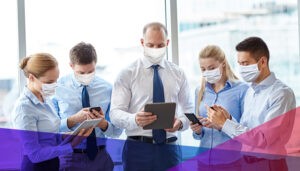 The pandemic has created so much uncertainty, especially for those in the retail industry. Do you feel like your employees are struggling to stay motivated and enjoy their time at work? Whether it be difficulty connecting with customers, or fears about getting and spreading COVID, it can be tough to manage employees that do not want to be at work. Here are some ways to boost employee morale and help your team thrive.
Show empathy and be supportive
If your employees raise concerns over the pandemic, hear them out. Do not ignore them, brush them off or diminish their thoughts and ideas. The pandemic has affected everyone differently, and it's important to make your employees feel safe and respected at work. Listen to your employees and work together to come up with a solution that benefits everyone.
Give employees more autonomy
Allow your employees the space to build and grow in the company. Give them responsibility for specific tasks and areas of the store or allow them to explore new aspects of the job. When they have more responsibility, not only will they be more motivated to work hard, but they will encourage other employees to be motivated as well.
Check in regularly
A happy team means a happy work life! Make sure your employees are doing well. Schedule one-on-one meetings to discuss their well-being. Ask them questions about their job and see if anything can or should be done to improve the workspace. Work with them to create goals for themselves and follow up on their progress. Spend time working alongside your employees. Show them that you are present and available.
Recognize and reward employees
Sometimes employees need a little push to regain their passion or enthusiasm at work. Incentives are a great way to get your team in good spirits. Employee of the month is a great way to start, with a winning prize such as a gift card or a small gift basket. Create challenges that encourage your employees to work together to accomplish goals, and reward them with prizes or bonuses.