How to Succeed Working in a Warehouse
January 25, 2022 | by Télé-Ressources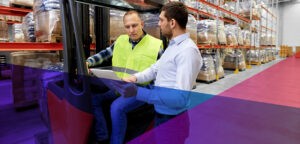 Warehouse workers perform an array of tasks and functions, from packing, stacking to labeling and sorting items and boxes. Are you interested in pursuing a career working in a warehouse, or do you already work in the industry? If you responded yes to either of the questions above, then this article is for you. Below, we've outlined some of the most important aspects to working in a warehouse, and how to succeed in this field.
Be organized
Without proper organization, a warehouse will not be able to function properly, and the delivery of products will likely be delayed and/or damaged. While working in a warehouse, you will oversee the stocking and sorting of products, and the handling of both incoming and outgoing deliveries. You need to know where everything is and be able to find merchandise at any given time. Organization skills will help you to be efficient and productive in the warehouse.
Stay fit and healthy
While working in a warehouse, you'll be on your feet most of the day, hand-lifting cargo, operating heavy equipment and machinery, and using a lot of physical strength and energy. Make sure you have the stamina to endure long hours of standing and moving around, and the strength to safely lift heavy objects throughout the day.
Be techno savvy
It's always good to have at least a basic understanding of common computer programs, especially Microsoft Word and Excel. Familiarize yourself with software applications, databases, scanners and printers, as they will be beneficial to keep track of shipments and items. Use these technologies to your advantage, because they will save you time and energy and allow you to be more productive.
Think safety; for you and your colleagues
Safety is the most important word of advice in an industrial job. There are a lot of moving parts in a warehouse, and it's important that you are always aware of your surroundings. Make sure you are properly equipped and trained before using any machinery. Avoid unnecessary stress or strain to your body and take the necessary precautions to prevent any injuries while lifting heavy objects.