How to Keep a Work-Home Balance, Even When Working from Home
March 4, 2021 | by Télé-Ressources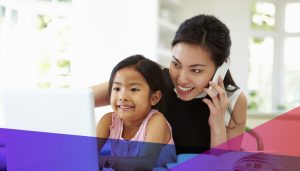 The overwhelming majority of office workers in Quebec have been working from home during the pandemic. For many remote workers, a big concern has been separating their personal life from their work life. From waking up, to working, to dinner, and then back to bed at night, it all takes place under one roof. So how do you create a balance between the two, and avoid burning out? Here are some tips.
Create a home office space
It is important that you define a workspace in your home which is only used for work. This designated work space should be equipped with a desk, a comfortable chair, and should be separate from communal family areas. Avoid using common areas, such as the dining table or kitchen counter as office space. Being able to disconnect and "leave the office" after a day of work is essential to managing your work-life balance.
Take breaks throughout the day
Recreate the office work day, which usually consists of at least a lunch break, but sometimes smaller breaks throughout the day. Enjoy a meal or a snack, go for a walk and get some fresh air, or stretch. Even small breaks away from a screen will help you reset and feel more productive. The more productive you feel, the easier it will be for you to walk away from your work at the end of the workday.
Spend time offline
The moment you clock out of work, remove yourself from the work mindset and do something that will help you relax. Whether it's spending time with your family, reading a book, cooking, or exercising, use the time to recharge. Avoid the computer, turn off your notifications, and disconnect yourself from your work.