Tips on Writing the Perfect Cover Letter
April 27, 2021 | by Télé-Ressources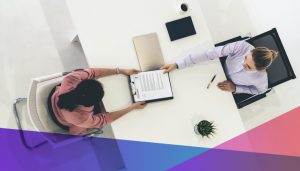 So you've finalized your CV, now what? The cover letter is the cherry on top of your job application. It's also your chance at making a first impression on the hiring manager. You want to make sure you get it just right. Follow these tips to ace that cover letter and score an interview for your dream job!
Personalization
Always make sure your cover letter is tailored to the company you are applying to. It is important that the letter does not feel generic, but rather that it's personalized. This will allow you to showcase your traits and skills that would be most beneficial to the specific company and job.
Find a contact
Take the time to try and find the name of the hiring manager. Being able to address your cover letter to a specific person will help make the letter more personal. If the information is not readily available to you, visit the company website or contact the company itself. In doing this research you will also learn more about the company and be able to apply that knowledge into your cover letter.
Highlight experience and skills
The CV is essentially an outline of everything you've done. The cover letter is where you can get into a bit more depth and demonstrate your strengths, transferable skills and experience that would be of value to your potential employer. Show the hiring manager what you can do for them, and what makes you the perfect candidate for that specific job. Don't be afraid to throw in some numbers and statistics as they will amplify your successes.
Keep it simple
The cover letter needs to be approachable. Lengthwise, it should remain under one page. Get to the point, be sharp and concise with every sentence. Proofreading will help you narrow down what is essential and what can easily be removed from the letter.