4 Reasons You Should Work with a Recruiter for Your Next Industrial Job
March 21, 2023 | by Télé-Ressources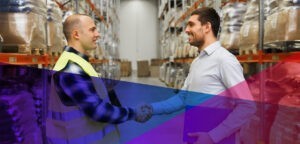 Job searching can be hard, but it doesn't have to be. If you're not working with a recruiter, you're missing out on a LOT. They are committed to finding a sustainable career for you. After all, the success of a recruiter depends on the success of you getting a job. If that's not enough to sell you, here are four of the primary benefits to working with a recruiter.
Gain Access to Exclusive Opportunities
Recruiters often work directly with companies whose jobs are not commonly found online. This allows businesses to outsource the hiring process and avoid sorting through massive amounts of irrelevant job applications. Therefore, working with a recruiter gives you access to unique job opportunities that are well-suited for you, against far less competition.
Save Time
The most important factor is the time-saving aspect – without a recruiter, you will spend countless hours searching for job opportunities, and another handful of hours preparing job applications. Recruiters can cut that time down significantly with their expert knowledge, experience, and connections.
Receive CV & Interview Help
A recruiter's goal is to ensure you have a successful application. They will offer valuable interview tips, as well as CV and cover letter advice, all to help you increase your chances of landing your desired job.
Long-Term: Be Considered for Future Job Openings
Even if you are not successful in one application process, recruiters will continue to consider you for future positions. Recruiters have access to a vast network of industry professionals and a consistent flow of job opportunities. By keeping your CV on file, they can regularly source new job opportunities for you until a suitable match is made.
At Télé-Ressources, we are well-connected with ample industry-leading businesses in the industrial sector. Send us your CV today and we'll connect you with one of our recruiters.