Warehouse Safety Tips during the COVID-19 Pandemic
March 25, 2021 | by Télé-Ressources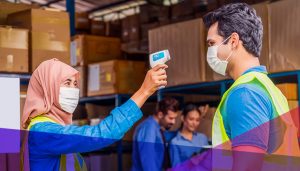 Despite the switch to remote working in some industries since the start of the pandemic, the industrial work force has had to remain operational on-site. Because of this, managers have had to drastically alter many aspects of the warehouse to prevent the spreading of the virus. Here are some tips to keep your warehouse workers safe and healthy.
Enforce a clean workspace
Encourage staff to clean and disinfect their workspaces, the machines they use and all common areas. Provide hand sanitizer in entrances, hallways and high-traffic areas. It is important that each employee takes care of their own health by washing their hands and disinfecting the tools and machinery that they use. This will not only protect themselves, but it will also protect their co-workers.
Provide proper equipment
In addition to disinfectant wipes and hand sanitizer, employees should be wearing all necessary safety gear and personal protection equipment. This includes masks, eye protection and face coverings, as well as the proper gear for their job. While it is important to make sure employees are protected from the virus, it is equally important that employees are properly dressed in order to avoid any work-related injuries.
Social distancing and restricted areas
It is a given that employees should be social distancing from one another, but they should also limit contact with people and areas that are not deemed necessary. Prevent employees from wandering beyond their designated workspace to avoid unnecessary contact with other teams and departments. Where distancing is not possible, install physical barriers such as plexiglass to help maintain safe spaces. Additionally, use visual markings to block sections of the warehouse to demonstrate to employees where they can and cannot go, depending on their tasks.